Item
items



0

items
We noticed you may be in the United States. Shop instead.
Art
Subjects
Entertainment
Specialty Products
Featured Categories
This item is in the following categories: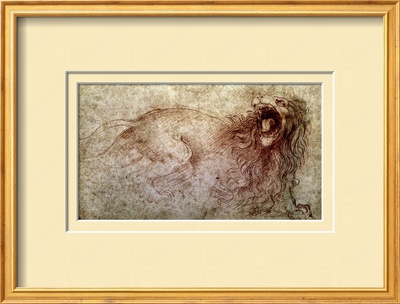 zoom
Sketch of a Roaring Lion
by Leonardo da Vinci
Framed Giclee Print
Frame:
COVENTRY Gold Thin (0.75 in)
Top Mat:
Vanilla
Bottom Mat:
Vanilla
Protective Layer:
Clear Acrylic 12x16
Finished Size:
43 x 33 cm
Item #: 7194644
Usually ships in
3-5 Days
Add to Cart
1733592
4986398
0
7194644
721e8d20f4f94855aa7bafe24f0d386f
36
AUD
1
1
cm
Wall Color
Select your Wall Color
Displaying of
Don't see the frame you like?
Frame it yourself
Framed Art Print
Lamina Framed Art Print
Lamina Framed Poster
Frame It
div_lc_sb_pp_01|http://cache1.allpostersimages.com/images/INTL/allposters/com_au/en/livechat/LiveChatBTN.gif |http://chat.allposters.com.au/WebChat/Main.aspx?QueueName=WWW.ALLPOSTERS.COM.AU&langiso=en&countryiso=AU |ProductPage |Available Chat Link Clicked |44799 |http://cache1.allpostersimages.com/images/INTL/allposters/com_au/en/livechat/spacer.gif |img_lc_sb_pp_01
About the Artist
Leonardo Da Vinci (1452 – 1519) was a Renaissance Master whose genius also profoundly impacted mathematics and the sciences. Insatiably curious and inventive, Da Vinci possessed unparalleled intellectual diversity. While scientifically studying light and shadow, he was able to conceptualize three dimensions and used the knowledge to impart his figures with their revolutionary lifelike quality. His works also reflected his insight into techniques for expressing atmosphere, depth, and the effects of age and emotion.
© AllPosters
Copy and paste the following code into the HTML editor of the blog that you use, such as MySpace or Blogger:
By using this service, you indicate your acceptance of our terms & conditions.
close window
<! -- tl_unique_visitor=yes-- >